The first day of the EoC School of formation for Northern Europe, in Baar, Switzerland
Creative entrepreneurs capable of giving new answers
By Luigi Bondolfi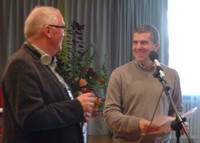 Finally, we met again today, a year later, in Baar, Switzerland. Right away, we realized that we were starting where we left off in Belgium. It was beautiful to see one another again, exchange our experiences and realize that in this dialogue we are not starting from zero, because we already have a common foundation.
The life of the EoC is going ahead and giving its fruits in every country, despite the economic crisis that affects us all. Entrepreneurs from various countries (Belgium, Holland, Luxemburg, France, Austria, Germany and Switzerland) underlined how, in the difficulties presented by the crisis, the relationships built with collaborators, clients and among EoC businesses were very important.
There are many entrepreneurs who are still waiting for something new. Today, the will to bring this new vision of the economy to everyone emerged with
strength. In these times of globalization and ethical upheaval, the life lived in EoC businesses allows us to oppose the utilitarianism and brutal mechanisms of the market. Concepts like cooperation, trust, respect and attention are fundamental to the creative push necessary to bring ahead a change in the present-day economy. 
One of the participants told us: "It's the first time that I participate in a meeting like this. I want to commit myself in the EoC with my business, because ever since I meet all of you I can't imagine doing anything else as an entrepreneur. I cannot turn back. I want to go ahead with you."
In his presentation, Luigino Bruni spurred us to keep in mind the questions raised in 1991, at the beginning of the EoC. The answers must be new for each situation. We don't live by remembering but by interacting with reality and relaunching a new category of creative entrepreneurs who are protagonists of our times.